Evaporative Cooling via Fogging
Cooling Principle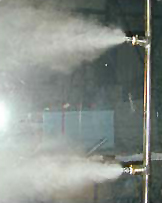 The basic idea behind this technology is to achieve an evaporative cooling effect by producing and evaporating fine water droplets with an average droplet size of around 15 micron. There is no remarkable pressure loss for the gas turbines and the start-up time is naturally very short.








Design Features
Safety valve
Incoming water pressure control
Outgoing water pressure control
Motor temperature control
Optional: second pump
Nozzle failure detection
Supply water failure detection
High pressure failure detection
Filter failure detection
Water filter
Thermocouple failure detection
Pump skid weight: approximately 1.3 ton for a 240 MW turbine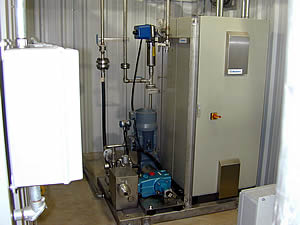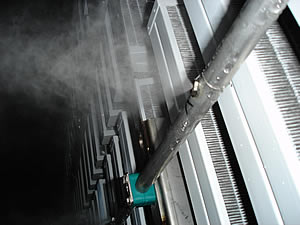 Benefits
Increased Power Output
The fogging droplets evaporate and thus produce a cooling effect which provides an intake air at higher density. This allows the gas turbine to achieve increased power output and operating efficiency.
Low Investment and Operational Costs
By using natural principles, the Optimize Fogging System has a low investment and operational cost, which allows for very short pay-back periods. The utility costs of the system are the water consumption (max. 10 m³/h) and the power consumed by the feed pumps.
Extremely Simple Installation


Suited for new plants as well as retrofits! Integration into the filter house, especially for retrofits, is surprisingly easy and cheap for fogging systems. Downtime for the array installation for 270 MW Siemens units does not need to be more than 36 hours.

Short Start-up Time


An evaporative cooling system based on the fogging method can be up and running within seconds, instantly producing the desired cooling effect!

No Remarkable Pressure Drop


Standard pressure drop of an Optimize fogging system is close to zero!
Visit our Literature section to obtain more
specific information – or simply contact us!